ABOUT US
Abiding Above Ministries serves to lovingly share the good news of Jesus Christ to all so that they can enter into a personal, saving relationship with Him and then begin to grow through discipleship to live and thrive in Him.
What do we mean by "abiding above"?
"Abiding" means that you and I should stay closely connected to Christ who lives within us, listening obediently, and relying on Him to live the Christian life moment-by-moment, day-by-day. Remember, Christ did not call us to live the Christian life, but rather to abide in Him so that He could live His life through us in His power, not ours.
John 15:4-5 – "Abide in Me, and I in you. As the branch cannot bear fruit of itself, unless it abides in the vine, neither can you, unless you abide in Me. I am the vine, you are the branches. He who abides in Me, and I in him, bears much fruit; for without Me you can do nothing."
"Above" speaks of the believer's position in Christ, in Heaven. As God's children we are now, seated with Christ in Heaven.
Ephesians 2:4-6 "But God, who is rich in mercy, because of His great love which He loved us, even when we were dead in trespasses, made us alive together with Christ by grace you have been saved, and raised us up together, and made us sit together in the heavenly places in Christ Jesus…"
Colossians 3:1-3 – "If then you were raised with Christ, seek those things which are above, where Christ is, sitting at the right hand of God. Set our mind on things above, not on things on the earth. For you died, and your life is hidden with Christ in God."
When we choose to "Abide Above" we are resting here on earth in our eternal heavenly position, and we begin to experience a heavenly life on earth.
MEET CHRIS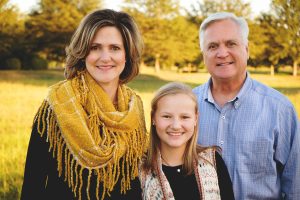 Chris Hodges is founder and president of Abiding Above Ministries, located in the greater Memphis, TN area, where he, his wife Kellie and their daughter Maclaren make their home.  Chris previously served on staff at Bellevue Baptist Church as Minister, Pastoral Care for more than six years.   During this time he served with Dr. Adrian Rogers and ministered to others in the most trying times in their lives. God has equipped Chris with the knowledge and ability to encourage and guide people out of a life of defeat into the life of victory.
"The thrill of my life is to encourage and share what God has made clear to me about who we are and what we have, in Christ.  When I began to learn what God's Word had to say about His grace, the work of the Holy Spirit, and the believer's position in Christ my life was absolutely transformed. My heart's desire is to see people saved and to see fellow believers walk in the victory that Christ has for them."
Chris believes deep in his heart, that when believers understand the truth about who they are and what they have in Christ, revival will follow.