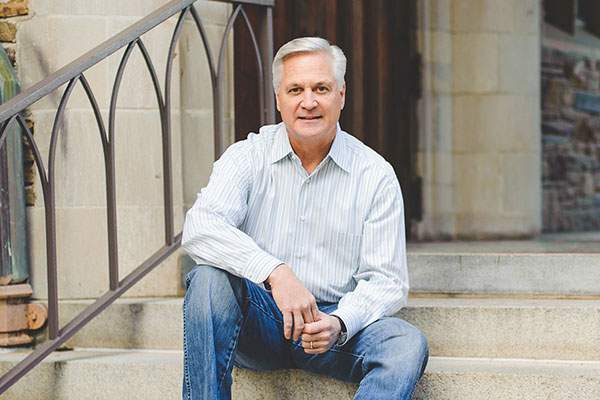 Chris S. Hodges, Founder and President of Abiding Above Ministries, demonstrates a keen understanding of the inner life and needs of people.
"My focus is missionary evangelism and training people how to train multiplying disciple makers worldwide."
Through Chris' Bible teaching ministry, he encourages spiritual growth and emotional healing as hearers apply Biblical principles and say yes to God's call of absolute surrender to the guidance and immediate control of the Holy Spirit.
"The thrill of my life is to encourage and share what God has made clear to me about who we are and what we have, in Christ. When I began to learn what God's Word has to say about His grace, the work of the Holy Spirit, and our position in Christ, my life was absolutely transformed as my mind was renewed."
Chris believes deep in his heart that when believers understand the truths of who they are and what they have in Christ, revival will follow and joy and fruitfulness in service will return to the children of God.
Chris was born in Clarksdale, Mississippi. His parents, Curtis and Nancy Hodges, provided a Christian home and environment for their 3 children, Randall, Chris, and Nancy Carol.
On April 7, 1968 at the young age of 6, at Riverside Baptist Church in Clarksdale, MS, Chris put his trust where God put his sins on Jesus, when he prayed asking Him to come into his heart.
"I believe this is a testimony of a dad and mom day-by-day helping us see all things through the lens of God's Word, even at such an early age."
Deuteronomy 6:5–7 – "You shall love the Lord your God with all your heart, with all your soul, and with all your strength. "And these words which I command you today shall be in your heart. You shall teach them diligently to your children and shall talk of them when you sit in your house, when you walk by the way, when you lie down, and when you rise up."
"I was soon baptized and had an increased interest in the things of God and regular times of family devotions in the evenings."
In 1988, when he was 26 years old, and after a time of being a nominal Christian, Chris began to understand the message of God's grace to a greater degree.
"I was working on a golf course in Gulf Breeze, Florida just outside of Pensacola. I kept the irrigation system maintained and mowed the roughs around the fairways. One day, as I was driving the tractor and listening to music, static on the radio caused me to search for another station. As I was looking for more music, I heard Charles Stanley preaching and decided to listen. His text was from the life of David in 2 Samuel 11 who committed adultery with Bathsheba, lied to his people about the affair, and had her husband Uriah killed to cover up his sin. So, he said, "David was an adulterer, liar, and a murderer. But
God said in 1 Samuel 13:14 – "David is a man after my own heart."'"  Listen to this sermon on the life of King David:

That statement was so simple, but I knew it was true. It stunned me, and the full message of God's unmerited favor and His grace began to dawn upon my consciousness.
You see, this is God's description of David, a man with many faults, but a man whose spirit was sensitive to God's will.
For me, at this moment, I began to see God as for me and not against me. I realized that nothing I had ever done or would ever do could possibly separate me from the love of God that we have in Christ Jesus."
Paul said in Colossians 2:6 – "As you therefore have received Christ Jesus the Lord (by grace), so walk in Him …." (by grace)
So, how did we receive Christ Jesus?
Ephesians 2:8 – "For by grace you have been saved through faith, and that not of yourselves; it is the gift of God, not of works …."
The same way we received Jesus into our hearts (by grace) is the same way we are to continue on as a Christian in our daily walk with God (by grace).
I knew I was saved, but emotionally for many years, I did not feel God accepting me. The truth is this; if you are saved you are accepted! And this salvation and acceptance is solely by the death of Jesus Christ. We have the continual and eternal grace of God! For the first time I saw so clearly, I am saved by grace, I am to live by grace, and I am kept by grace!
Later, while working as an engineer for the Columbus and Greenville Railway, pulling trains through the delta and hills of Mississippi, Chris began to understand the work of the Holy Spirit in the life of the believer (Christ in you), as he meditated on the biographies he was reading in the evenings at home. This had a profound impact on him, and he began to be used by God in leading others to Christ, and in counseling people who were hurting.
"One day at lunch, Dr. Olford's longtime  homiletical secretary, Vicky Kuhl sat down at the picnic table where I was eating. She asked me, 'What brings you here today?' I told her I was trying to discern my call into the ministry and was hoping to speak with Dr. Olford about it. Later, she brought down an old folder filled with articles on the, Call To Ministry. These papers were yellow and had rusty paper clips on them. And, it was exactly what I needed! By reading these old papers, God made clear to me I was to begin preparing for full time ministry." Listen to this godly woman's memorial service!

During Chris' time of studies at Mid-America Seminary in Memphis, Tennessee, he began to understand the believer's position in Christ (I'm in Christ), but not in the usual way you would think a seminary student would learn this wonderful and freeing truth. God used this picture in a children's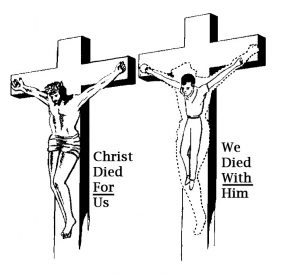 Bible study course called The Mailbox Club to reveal to Chris the unsearchable riches that are found, in Christ. This picture clearly illustrates that Jesus not only died for our sins, but He also died as us.
Galatians 2:20 – "I have been crucified (with Christ); it is no longer I who live, but (Christ lives in me); and the life which I now live in the flesh I live by faith in the Son of God, who loved me and gave Himself for me."
In 1998, Dr. Adrian Rogers asked Chris to serve on staff as Minister, Pastoral
Care at the historic 29,000 member Bellevue Baptist Church in the Memphis, Tennessee area. On August 22, 1999, Dr. Rogers presided over Chris' ordination council, and that evening ordained Chris to the Gospel ministry.

For more than 6 years, Chris served as Minister, Pastoral Care. During these years with Dr. Rogers and the pastoral staff, Chris did the day-to-day work of a pastor. Chris ministered to people in the most trying times in their lives through preaching, teaching, counseling, baptizing, officiating weddings, and conducting the funerals of those who were a part of this local fellowship of believers called Bellevue.
These years of frontline ministry have equipped Chris with the knowledge and ability to encourage and guide people out of a life of defeat into … the life that is hidden with Christ in God. Colossians 3:1-3
"When I reflect on these days in my life, I'm grateful to have served with and learned from Adrian Rogers. These were special days that shaped me and prepared me to minister to a lost and hurting world for many years to come."
After these six years on Bellevue's Pastoral Staff Chris asked Dr. Rogers to pray about a calling, he felt from God to a wider field of ministry in sharing the simple gospel message Christ died for you to the lost and you died with Christ to the believer. Eventually, Dr. Rogers said, "Chris we love you and will miss you here, but this calling you feel has not gone away so there is only one thing left for you to do, step out of the boat, walk on water, and don't look down." That was my final green light.
2 Corinthians 3:17 – "Now the Lord is the Spirit; and where the Spirit of the Lord is, there is liberty."
In April 2005, Chris and his longtime friend, David Rainey, formed Abiding
Above Ministries. As Founder and President, Chris has preached across America in churches and conferences, and around the globe in locations such as El Salvador, Uruguay, Cape Town, South Africa, Puerto Rico, Kenya, Nicaragua, Russia, Ethiopia, Nigeria, and Mexico. He has preached large evangelistic festivals in heavily populated areas and in prisons. Chris has also trained pastors and leaders in guiding their churches and in planting new ones with a multiplying disciple making model committed to carrying the gospel to the ends of the earth.
Chris has also led group excursions to Israel, touring the major historical sites of the Holy Land as well as retracing the missionary journeys of the Apostle Paul around the Mediterranean Sea.
Conservatively, it is estimated that more than 48,000 people have prayed to receive Christ since the founding of Abiding Above Ministries.
Over the years, God has led Chris to refine his message to these two simple truths, "Christ Died for You" to the unbeliever and "You Died with Christ" to the believer. Chris is motivated to see people saved, and to see genuine spiritual growth among our brothers and sisters in Christ. These simple truths from God's Holy Word are the reason, and therefore, the foundation for the forming of Abiding Above Ministries.
Chris often says, "I'm still to this day in awe and excited by this truth. I share it often and God uses me to help defeated Christians with the message of Galatians 2:20 and Colossians 3:1-3."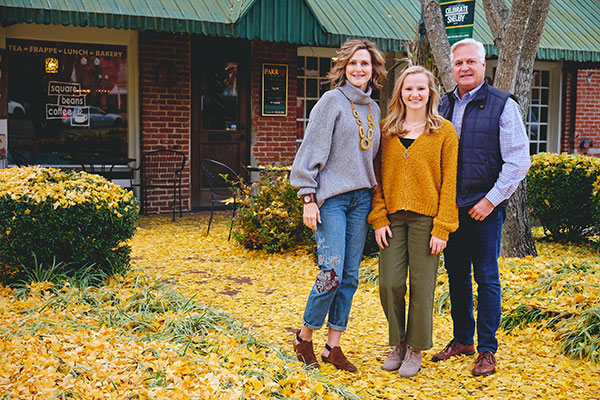 In 2009, the broadcast ministry of "Abiding Above with Chris Hodges," began its first radio broadcast with Bott-Radio Network – WCRV 640AM in Memphis, TN airing our brief 2-minute "Encouraging Message" at 5:00PM.  And in 2021, we expanded our local coverage with Bott-Radio to include the stations of 93.7FM and 100.7FM at 5:00PM.

 (Click the Listen Live/Memphis Stream)
Our broadcast expansion with Bott-Radio Network also includes the Nashville, TN stations of 1160AM / 89.1FM and its surrounding coverage areas of: Dickson, TN 91.5FM; Donelson, TN 107.1FM; Clarksville, TN 99.5FM; Gallatin, TN 93.9FM; Lebanon, TN 91.5FM airing at 5:30PM.
In Arkansas, we can also be heard at 5:30PM on the following Bott-Radio Network stations: Jonesboro, AR 91.1FM; Walnut Ridge, AR 88.9FM; West Memphis, AR 90.5FM.
In 2017, we partnered with Wilkins Radio Network – WWNL 1080AM located in Pittsburgh, PA. You can hear our "Encouraging Message" from their website:

(You can download the Wilkins Radio Network app and follow the link WWNL AM 1080. We can be heard Monday-Friday at 7:28-7:30AM/Eastern Time Zone.)
On June 27, 2021, Abiding Above Ministries signed on with Memphis radio station KWAM 990 AM and 107.9 FM to bring you our first 30-minute sermon broadcast, "Abiding Above with Chris Hodges."
These sermons can be heard every Sunday from 7:30AM – 8:00AM from their website

(You can download the "The Mighty 990" app from your mobile phone to livestream these sermons.)
Over the years, Chris has served generously as a board member with The Adrian Rogers Pastor Training Institute, The Champions for Children of the Tennessee Baptist Children's Home, The Christian Life Convention Advisory Board of Olford Ministries International, and with Child Evangelism Fellowship.
Chris, his wife, Kellie, and daughter, Maclaren, continue to reside in the Memphis area as they faithfully fulfill God's call upon their lives.